CGET's Casing Shoes & Rod Shoes products are designed and manufactured to meet wide range of conditions, from overburden to broken and unconsolidated formations, our heavy duty casing shoes & rod shoes with reinforced ID and OD gauge, making sure the gauges can be kept in all the conditions even if it is very abrasive.
Rod Shoes can be classified as rod shoe, rod shoe bit, casing shoe and casing shoe bit. They are used when a new drill hole is being opened in order to insert a casing tube through the overburden layer. we offer impregnated diamond rod shoes and tungsten carbide (TC) rod shoes, our impregnated diamond rod shoes are the best sellers.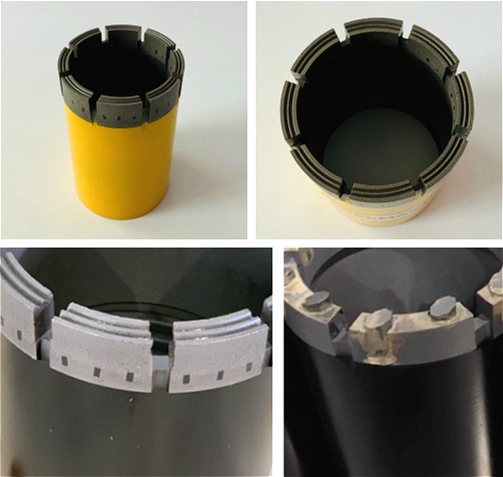 Features
* CGET's impregnated diamond rod shoe has an excellent quality as it is made of synthetic diamond of top quality and proper matrix.
* The CGET range of impregnated diamond Rod Shoes and Casing Shoes are designed for B, H, N and P series.
CGET impregnated diamond rod shoes are designed to offer performance and longevity in a variety of drilling operations. CGET rod shoes are offered in multiple matrices and all standard sizes.
Type and Size
Rod Shoes Size

Type

O.D.(mm)

I.D.(mm)

BQ Rod Shoe

Φ59.56

Φ45.21

NQ Rod Shoe

Φ75.31

Φ60.2

HQ Rod Shoe

Φ91.82

Φ76

PQ Rod Shoe

Φ120.66

Φ101.22
Casing Shoes Size

Type

O.D.(mm)

I.D.(mm)

BW Casing Shoe

Φ75.31

Φ60.2

NW Casing Shoe

Φ91.82

Φ76

HW Casing Shoe

Φ117.48

Φ99.7

PW Casing Shoe

Φ143.58

Φ123.3

HWT Casing Shoe

Φ117.48

Φ99.7

56mm

Φ56

Φ47

76mm

Φ76

Φ67

86mm

Φ86

Φ77

101mm

Φ101

Φ87.5

131mm

Φ131

Φ118
Note: Q is the trademark from BLY, here we quoted for helping customers to do a selection only.