Exploration is a very important way to identify if the rock contains any interesting minerals, also it can be used for construction industries, diamond core drilling is one of the common method to do such drilling and get the core samples from rock and soil, the samples will be sent for analysis. In the process of drilling, high performance bit is a key factor for scientific and professional drilling.
Here, we especially elaborate on the impregnated diamond drill bits, our diamond drill bits are made using special and patent formula with sophisticated powders for making sure premium quality and getting optimum drilling performance balance with longer service life. For making sure the user can choose the bits easy, through the hard working of our engineers, our diamond drill bits can cover wider range of application, fewer bits types but for whole ranges of the rocks, so it can make you have a good experience for bits selection and reduce your inventory cost at the meanwhile.
Benefits of CGET Diamond Drill Bits
Durability with special matrix ( cuts hard rock faster with longevity).

Reinforced OD and ID gauges design, so you don't worry about the gauges lose.

Drilling straighter than normal bits.

Better core samples recovery.
Normally, The Crown and Grades of Our Drill Bits Are Produced As Per Below:
* Junior Grade:11mm, Cost Effective
Suitable for soft to medium hard formation not broken too much , this is an economical choice. Most popular for Indian market.
* Navigator Grade:14mm, Ideal Choice
Suitable for hard to very hard formation with good penetration speed and lifespan .
Our best sellers to oversea market.
* Master Grade: 15/16mm, Top Quality
Have a very good flexibility for various rock formations with our best quality, especially for compete rock formation with non- abrasive.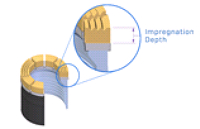 12mm, 14mm and 15mm is available for wireline coring bit; For T2, T6 series of bit, 6-9mm is available.
All of them have wonderful engineering and special designs, experts in powder metallurgy with sophisticated sintering and CNC machining, strict quality control and precise gauge protecting technology, all of those procedures are only for ensuring best work-life and good penetration rates, especially for MASTER bits, which are widely used in Mideast countries, Russia language speaking countries and South America for tackling tough rock conditions. Not only for impregnated diamond drill bits, but also we provide surface-set diamond bits, PDC bits, T.C bits for your selection and we are capable of designing the bits according to our customers specified requirements.
Diamond Drill Bits Crown Profiles & Waterway Configuration
CGET WUXI offers various range of different crown profiles and waterway shapes to meet different requirement according to rock conditions, all of the waterway configuration provide customized designs.
W Profile Standard Waterway (STD)

Standard configuration with broad range of applications for general purpose diamond coring drilling.

Best sellers on the market.
W Profile Ex-Wider Waterway (Wedge)

Suitable for soft and broken, broken and abrasive formation where blocking of standard waterway is possible. 20% fluid capability if compare with "SW" type, higher circulation pump volumes is recommended for effective performance.

Good fluid cooling of the bits and keep the waterways free of cutting

Improve productivity. Reducing the surface of cutting area by 10% if compare to "SW" type.
W Profile Turbo Waterway (Turbo)

Best suitable for competent rock, hard to very hard formations. High productivity with decreased pressure required on the bit, reducing the surface of cutting area by 15% if compare to "SW" type.

Extended waterways is good for fluid circulation, remove the cuttings quicker and keep the waterways clean.

Better penetration rates in most competent rocks, but not recommend for using in highly fractured formations.
W Profile Face Discharge Waterways (FD)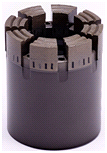 Recommended for use when drilling with triple tube wireline core barrel systems for soft unconsolidated formations

Minimum core sample wash, avoid the potential for undesirable core erosion
Regarding the profile of the impregnated diamond drill bits, flat profile is provided as well for your selection, contact our sales representative to know more.
Impregnated Diamond Drill Bits Selection Guide
There Are Five Critical Tips For Diamond Drill Bits Selection
* Tip 1: Rock hardness
Softer rock hardness, choose lower number bits
* Tip 2: Rock grains
Coarse grain size of rock always with abrasiveness, choose lower number bits; fine grains size of rock with slightly abrasive, or compete rocks, choose higher number bits.
* Tip 3: Waterways
"WW" profile is the general profile design, the appropriate selection of right waterways can help us to improve the penetration speed ( Refer to the above profiles and waterways)
Tip 4: Drilling rig types
Rig with low power(Portable or lightweight rigs), choose higher number bits;
Rig with powerful power( Hydraulic rigs), choose lower number bits.
Tip 5: Penetration rate & bit lifer
Slow penetration rate? Try higher number bits.
Short bit working life? Try lower number bits.
Recommendations for Drilling
The following basic guides will help you to understand the bits and realize good performance, as the drilling conditions and drilling equipment's performance is vary too much, it is impossible to give a very accurate RPM.
| | |
| --- | --- |
| Bit Size | RPM |
| B/WL | 1100-1400 |
| N/WL | 850-1120 |
| H/WL | 720-900 |
| P/WL | 560-740 |
"Polished" Diamond Drill Bits Before Working
Impregnated Diamond Bits Polishing is a important step before working. How to polish a bit in the hole? Increase the pressure( weight) on the bit and reduce the flow of water, so it can sharp the bit to force the new layer of diamond exposed and shaped. Once the bit has been sharpened, lower the pressure and increase the water flow to start the drilling works. Water flow is a critical parameter. Insufficient or excessive water flow can result in poor performance.
Wireline Coring System- Impregnated Diamond Drill Bits Dimensions
| | | | | |
| --- | --- | --- | --- | --- |
| Type | B-WL | N-WL | H-WL | P-WL |
| O.D. of Bit | Φ59.5mm | Φ74.6mm | Φ95.6mm | Φ122mm |
| I.D. of Bit | Φ36.5mm | Φ47.6mm | Φ63.5mm | Φ85mm |
| O.D. of Reaming Shell | Φ60mm | Φ75.8mm | Φ96mm | Φ122.6mm |
| O.D. of Outer Tube | Φ57.2mm | Φ73mm | Φ92.1mm | Φ117.5mm |
| I.D. of Outer Tube | Φ46mm | Φ60.3mm | Φ77.8mm | Φ103.2mm |
| O.D. of Inner Tube | Φ42.9mm | Φ55.6mm | Φ73mm | Φ95.3mm |
| I.D. of Inner Tube | Φ38.1mm | Φ50mm | Φ66.7mm | Φ88.9mm |
| O.D. of Drill Rod | Φ55.6mm | Φ69.9mm | Φ88.9mm | Φ114.3mm |
| I.D. of Drill Rod | Φ46mm | Φ60.3mm | Φ77.8mm | Φ101.6mm |
Diamond Drill Bits- Impregnated Diamond Bits Selection Chart